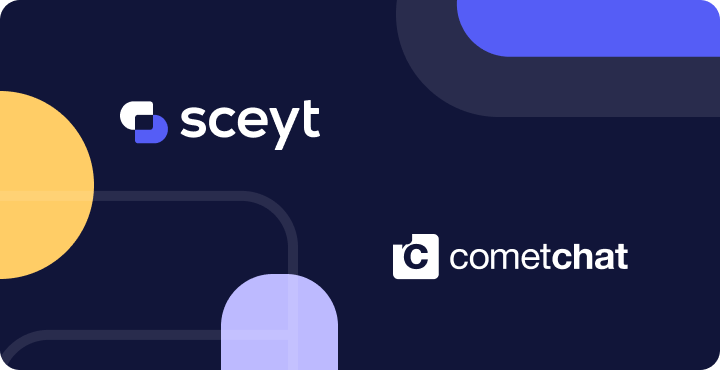 These days, if you want to fully capture the attention of your app user base and engage them, it's a good idea to implement in-app chat.
Reliable, well-designed in-app chat helps you to promote communication and interaction. That's where chat APIs like Sceyt and CometChat come into play. But how do you decide which one suits your needs better?
The decision on which chat API to use in your app is an important one. Getting the right chat features can potentially influence:
User engagement
Retention rate
Revenue
The main factors you should consider when choosing a chat API are ease of integration, reliability, scalability, feature set, and cost. As well as these practical considerations, you would also factor in things such as quality of user experience and the level of support offered by the chat API provider.
This article is here to guide you. We'll take a deep dive into Sceyt and CometChat, two of the leading players in the field of in-app chat APIs. We'll dissect their features, as well as analyzing their benefits and shortcomings – to help you make an informed decision.
Introduction to CometChat
CometChat is a platform that presents itself as a one-stop-shop for integrating in-app messaging, promising flexibility and ease of use. But how well does it actually deliver on these promises?
CometChat does boast a wide compatibility with various technologies. If you're coding in React, Swift, PHP, or Flutter, CometChat claims to integrate seamlessly. It aims to let developers focus on the user experience, though, given the diversity of platforms, questions may arise about the depth of support and specialization for each.
While CometChat offers voice and video communication, extending beyond text chat, it's worth scrutinizing the quality of these features. Can users reliably connect to video messaging and how intuitive are the group conferences? Also, how does the pricing of CometChat compare to other in-app chat solutions?
A CometChat alternative, such as Sceyt, may be a more cost-efficient way to enable chat features in your app, as well as allowing for increased scalability and reliability with its binary data format and low-latency proprietary messaging protocol.
In the next section, we'll take an in-depth look at the various features and support offered by both in-app chat solutions and reach a verdict on which is best to suit your needs.
Feature Comparison Between Sceyt and CometChat
Both Sceyt and CometChat provide a range of features and tools to enhance your app's chat experience, but it's essential to look beyond the surface to decide which is the best fit for you.
In this section, we'll compare and contrast the features of Sceyt and CometChat, analyzing each in detail to understand their strengths and limitations. From compatibility and scalability, to ease of integration and reliability, we'll leave no stone unturned. Our goal is to give you a well-rounded understanding of what each chat API brings to the table.
Pricing Comparison Between Sceyt and CometChat
Pricing & Concurrent Users
Sceyt
CometChat
1,5K Monthly Active Users
Starter $59
Essentials $109/Pro 529$
(1000 MAU)
5K Monthly Active Users
Growth $179
Essentials $379/ Pro $799
10K Monthly Active Users
Growth $179 + $200
Essentials $829/ Pro $1249
25K Monthly Active Users
Standard $799
Essentials $1579/ Pro $1999
Concurrently Connected Users
100%
5%
Understanding the pricing structure is a crucial part of the decision-making process when looking for an in-app chat solution. Both the cost per user and the capacity for concurrently connected users are important factors to consider. Let's take a closer look at the pricing breakdown for Sceyt and CometChat based on monthly active users (MAUs).
CometChat's pricing is structured in tiers, escalating in cost as your number of users increases. The 'Essentials' plan costs $109 for 1.5K MAUs, while the 'Pro' version comes in at $529. As your user count rises, so do the costs, with the 'Pro' package for 25K MAUs reaching a significant $1999. It's crucial to note that only the 'Pro' package includes all features, potentially limiting your options at lower price tiers. CometChat does have a competitive edge in offering built-in audio and video calling in its Pro and Custom packages, a feature Sceyt doesn't currently offer.
Sceyt, on the other hand, maintains a more steady pricing structure. The 'Starter' plan for 1.5K MAUs starts at a reasonable $59. For larger user bases, the cost remains comparatively affordable - the 'Growth' package for 10K MAUs, for instance, is priced at $379, providing substantial savings compared to CometChat.
It's also important to consider the proportion of concurrently connected users supported by each platform. For instance, Sceyt supports 100% concurrent connections regardless of the MAU count, meaning all active users can participate in chat simultaneously without incurring extra costs. CometChat supports a lower percentage of concurrently connected users at only 5%.
In conclusion, the cost of CometChat rises steeply as your user count increases and only offers full features on the pro package. Sceyt, with its more predictable pricing structure, robust support for concurrently connected users, and full-featured chat at every price point offers a cost-effective and scalable solution for businesses aiming for growth. Remember, it's not just about the immediate cost – it's also about how pricing evolves as your user base expands.
Support Plan Comparison Between Sceyt and CometChat
Sceyt
CometChat

Support is included in pricing packages. No extra charges apply.

Essentials


Community support
Email support

Starter


3 hours support response
8/5 support

Pro


+ Implementation assistance

Growth


2 hours support response
8/5 support

Custom


+ Priority email support
Customer success manager
Support SLA


Standard


1 hour support response
8/5 support

Enterprise


30 min support response
Customer success manager
24/7 support
Now, let's take a closer look at the level of support provided by both Sceyt and CometChat. Support is critical as issues may arise at any point and fast, effective resolution helps to keep your users happy.
Sceyt includes support in every pricing tier without any additional cost, with extra assistance provided at each level. The response time decreases as you move up each level, with support available 8 hours per day, Monday to Friday, until you reach the Enterprise level that offers rapid 30 minute response and 24/7 support.
On the other hand, CometChat's support varies based on the pricing plan. The 'Essentials' plan includes community and email support, providing basic avenues for troubleshooting. Moving up to the 'Pro' plan, implementation assistance is added. For custom requirements, CometChat offers priority email support, a Customer Success Manager, and a guaranteed Support Service Level Agreement (SLA) in their 'Custom' plan, but it's worth noting that these advanced support options may incur additional costs.
In summary, when weighing up the degree of support offered by Sceyt and CometChat, you should pay attention to the response time, and whether the support level meets the demands of your user base and your team. While CometChat offers various levels of assistance, Sceyt's across-the-board inclusion of support in their pricing plans, combined with their progressively faster response times and commitment to customer success, could offer greater peace of mind in navigating any problems.
Deployment Comparison Between Sceyt and CometChat
| Deployment | Sceyt | CometChat |
| --- | --- | --- |
| Multi-region support | | |
| Dedicated infrastructure | | |
| Regional proxy | | |
| On-premises (full data control) | | |
| Multi-tenant (multiple isolated applications) | | |
Both Sceyt and CometChat offer multi-region support and dedicated infrastructure. This ensures that your chat feature is available for users across various geographical regions while maintaining performance.
Sceyt includes a regional proxy which routes local traffic more efficiently, potentially improving response times and overall user experience, a feature not currently available with CometChat. Depending on how far apart your user base is likely to be located, this may be important to consider.
One area where Sceyt sets itself apart is in its offering of an on-premises deployment option. This means that you can host the chat service in-house, giving you full control over data. This is a must for companies handling sensitive information or operating in highly regulated industries, such as financial services or healthcare. This option is not currently available with CometChat.
Finally, both Sceyt and CometChat support multi-tenancy, meaning they can accommodate multiple isolated applications. This feature can be particularly useful for organizations running various independent applications, enabling them to manage chat features across these apps more efficiently.
In summary, Sceyt edges ahead in terms of deployment with its support for regional proxies and on-premises deployment. These features provide greater flexibility and control. This can help to improve performance and enhance data security, key considerations when choosing a chat API solution.
Security and Compliance Comparison Between Sceyt and CometChat
| Security and Compliance | Sceyt | CometChat |
| --- | --- | --- |
| SOC2 | | |
| ISO27001 | | |
| GDPR | | |
| HIPPA | | Extra Fee |
| TLS(SSL) encryption in transit | | |
| AES encryption at rest | | |
Both Sceyt and CometChat maintain robust security measures, evident from their compliance with SOC2 and ISO27001 standards. These globally recognized certifications ensure compliance with strict information security policies and procedures.
Furthermore, if data privacy regulations are a concern, it's reassuring to know that both Sceyt and CometChat are compliant with the General Data Protection Regulation (GDPR). This means both platforms provide necessary safeguards for the privacy and protection of personal data for users based in the European Union.
However, a notable difference arises when considering HIPAA compliance, vital for healthcare organizations. While Sceyt includes HIPAA compliance within its package, CometChat offers this level of compliance, but at an extra fee. This will incur extra costs for apps that handle protected health information (PHI).
In terms of encryption, both Sceyt and CometChat utilize Transport Layer Security (TLS), formerly known as SSL encryption, for data in transit. This ensures that the data exchanged between users remains secure as it travels over the internet. Additionally, both platforms provide AES encryption for data at rest, safeguarding stored information from unauthorized access.
In summary, while both Sceyt and CometChat display solid commitments to security and compliance, Sceyt might offer a slight edge in terms of HIPAA compliance, which is included in the package, unlike CometChat. This factor could be a key decision-making point depending on your organization's needs and the industry you operate within.
Connectivity Comparison Between Sceyt and CometChat
| Connection and Data format | Sceyt | CometChat |
| --- | --- | --- |
| WebSockets | | Only Receive |
| Data format | Protobuf(Binary) | JSON(Text) |
Sceyt offers full support for WebSockets, providing both send and receive capabilities. This means that your application can maintain a consistent connection for ongoing, two-way communication. On the other hand, CometChat only supports the receiving end via WebSockets. This may affect the overall responsiveness and efficiency of two-way real-time chat features.
In terms of data format, Sceyt employs Protocol Buffers (Protobuf) which is a binary format, while CometChat utilizes JSON, a text format. Protobuf is generally more efficient and faster in serialization and deserialization than JSON. It also has a smaller payload, leading to faster network transmission and lower bandwidth usage. JSON, while more readable and easier for debugging, might not offer the same level of performance as Protobuf.
On the whole, Sceyt's proprietary messaging protocol that uses binary Protobuf offers low-latency, optimal efficiency, and high speed message transfer, compared to CometChat's JSON-based protocol.
Platform Management Comparison Between Sceyt and CometChat
| Management | Sceyt | CometChat |
| --- | --- | --- |
| Dashboard | | |
| Role-based dashboard access | | |
| Statistics | | |
| Moderation dashboard | | |
Effective management tools are crucial for monitoring, controlling, and optimizing your chat solution's performance, user experience, and security.
Both Sceyt and CometChat offer similar management features, including a visual interface dashboard with role-based access, statistics tools, and moderation control.
While Sceyt and CometChat are largely on par with each other in these management areas, remember that the user experience and specific capabilities of these tools can vary. Hence, consider trialing both platforms to understand which best suits your team's needs and preferences.
Integration Comparison Between Sceyt and CometChat
| Integration | Sceyt | CometChat |
| --- | --- | --- |
| Mobile and Web SDKs | | |
| REST API | | |
| Webhooks | | Only Pro Plan |
| Chat Bots interface | Over Webhooks | |
| Third party integrations | | |
| UI Kit design for mobile & Web | | |
| UI Kit with customizable components | | |
| Multi-language UI Kit | | |
Both platforms provide Mobile and Web SDKs, allowing developers to create applications across different platforms with rich chat experiences. They also offer REST APIs, enabling developers to interact with the chat platforms programmatically.
However, there are some differences between the two. Sceyt includes Webhooks as a standard feature, providing real-time notifications for prompt application responses. In contrast, CometChat only includes Webhooks in their Pro Plan. Sceyt offers a chatbot interface through Webhooks, while CometChat directly includes this feature, allowing for the creation and integration of AI-powered chatbots.
Both platforms support third-party integrations, allowing developers to connect their chat applications with other software and services. Additionally, both Sceyt and CometChat provide UI Kits for mobile and web, offering customizable components and multi-language support to facilitate the design and deployment of visually appealing and localized user interfaces.
In summary, while both Sceyt and CometChat provide a robust set of integration features, there are minor differences. If Webhooks are a priority, then Sceyt offers them in the lower pricing tiers, which may be better for smaller organizations that are looking to grow.
Scalability Comparison Between Sceyt and CometChat
| Scalability | Sceyt | CometChat |
| --- | --- | --- |
| Support for millions of users in one application | | |
| Support for millions of users in a single channel | | Limited |
| All channel members receive push notifications | | Limited |
| Message retention period | Unlimited | Not Specified |
The capacity to grow and adapt to increased demand – scalability – is important for most apps and web apps. Let's evaluate the ability of both Sceyt and CometChat to handle large numbers of users and high message volumes.
Both Sceyt and CometChat can comfortably support millions of users within a single application, demonstrating their capability to cater to large-scale apps with substantial user bases.
However, when it comes to accommodating millions of users in a single chat channel, Sceyt stands out. It can handle this without compromising performance, whereas CometChat offers limited capacity in this area. Depending on your use-case, if you're expecting your chat channels to expand significantly, this might be a crucial point to consider.
Similarly, Sceyt extends its scalability prowess by ensuring all channel members receive push notifications, regardless of the channel size. This feature may enhance the user experience and engagement within your app. On the contrary, CometChat seems to provide limited capacity for this feature, which could impact your application's interactivity scale.
In summary, Sceyt can easily handle millions of users in a single chat channel, something that CometChat struggles with. Furthermore, Sceyt ensures all channel members receive push notifications, enhancing user engagement. Therefore, for applications expecting significant user and interactivity expansion, Sceyt's scalable infrastructure presents a more future-proof solution.
General Chat Features Comparison Between Sceyt and CometChat
| General Chat Features | Sceyt | CometChat |
| --- | --- | --- |
| One-to-one chat | | |
| Group chat | | |
| Channel messaging | | |
| Chat folders | | |
| Media and file sharing | | |
| On-device thumbnail generator | | |
| User mentions | | |
| Unread message count | | |
| Unread mentions count | | |
| Delivery and read receipts | | |
| Custom receipts | | |
| Message reactions | | |
| User presence | | |
| Typing indicators | | |
| Rich link preview | | |
| Message threading | | |
| Offline message storage | | |
| Built-in message forwarding | | |
| Message translation | Over Third Party | Only Pro Plan |
| Delete message for all and self user | | |
| Metadata on users, channels, messages | | |
| Push notifications | | |
| SMS notifications | | |
| Email notifications | | |
| Reply to chat via email | | |
| Mute notifications | | |
| User privacy settings | | |
| User-to-user blocking | | |
| Custom channel events | | |
| Custom member roles | | |
| Contact management | | |
| Message search | | |
| Channel search | | |
| User search | | |
| Message reporting | | |
| Message AI moderation | Over Third Party | |
| Programmable Functions | | |
| Built-in audio/video calling | | |
Both platforms offer fundamental features such as one-to-one chat, group chat, channel messaging, media and file sharing, user mentions, delivery and read receipts, message reactions, user presence, typing indicators, rich link preview, and offline message storage.
However, Sceyt differentiates itself by providing unique offerings, including chat folders, unread mentions count, and custom receipts, which are absent in CometChat. These features add layers of usability and customization that might significantly enhance your application's functionality.
While CometChat does have a few features like SMS and email notifications and reply to chat via email which are not available in Sceyt, it misses out on some user-focused features like user privacy settings, custom member roles, and a built-in message forwarding feature, all of which are included in Sceyt.
On the flip side, CometChat has an edge with a built-in audio/video calling feature, something Sceyt doesn't currently offer. In terms of message translation, Sceyt relies on third-party integrations, whereas CometChat includes it in their Pro Plan. For AI moderation, CometChat has a built-in solution, while Sceyt leans on third-party tools.
In summary, the general chat features of both solutions are similar, but in terms of user experience Sceyt tips the scale slightly in its favor with features such as privacy settings, custom members roles, and built-in message forwarding.
Key Differences Between Sceyt and CometChat Explained
Chat Features
While both Sceyt and CometChat provide a range of in-app chat features, Sceyt stands out in several areas.
Large Channel Support:

Sceyt is capable of supporting millions of users within a single channel at no extra cost.

Reliable Push Notifications:

Sceyt guarantees the delivery of push notifications even under low connectivity and to all channel members, even when there are millions in a single channel.

Real-Time Chat Efficiency:

Sceyt utilizes a specially-designed messaging protocol with a single socket for both sending and receiving, as opposed to CometChat where two separate sockets are used.

Built-in Message Forwarding:

Sceyt has a built-in message forwarding feature, providing extra convenience and functionality that is currently absent in CometChat.

Message Deletion Capability:

Sceyt stands out with its feature that allows both users and the message originator to delete messages, unlike CometChat.

Custom Member Roles:

Sceyt empowers users by offering the ability to assign custom member roles, a feature that CometChat doesn't currently support.
Faster Response Time with Sceyt's Binary Data Transfer
Sceyt leverages the efficiency of binary data transfer for real-time messaging, resulting in reduced latency and improved chat response times. This technology empowers Sceyt to deliver faster, more seamless communications compared to CometChat, making it an ideal choice for applications where fast, real-time interactions are essential.
Enhanced Scalability with Sceyt
Sceyt offers a clear and transparent pricing policy, allowing for greater scalability. Sceyt's pricing scales according to the number of active users, offering flexibility for businesses of all sizes. CometChat's pricing, on the other hand, is more opaque, potentially making scalability a challenge for growing businesses. Sceyt also supports millions of concurrent users in a single channel, which isn't possible in CometChat at the moment.
Improved Deployment Options with Sceyt
Sceyt offers more versatile deployment options, including on-premises deployment and dedicated infrastructure, which are not available with CometChat. This makes Sceyt a more flexible choice, particularly for businesses that have specific data security or privacy requirements.
Conclusion
If you're looking for a good, reliable, and fast chat API solution, CometChat alternative Sceyt fits the bill. Each solution offers a variety of in-app chat features designed to meet different needs. However, Sceyt is ahead in several crucial aspects.
Sceyt shines with its transparent, flexible pricing, support for a larger number of concurrent users, and excellent data transfer performance and low latency by applying its own custom-built binary messaging protocol.
Furthermore, Sceyt goes above and beyond by offering a wider array of chat functionalities, enhanced privacy controls, and high-performance, multi-language UI Kits. It stands out with user experience enhancements such as chat customizability, superior file management, and efficient contact management. These features clearly differentiate Sceyt from CometChat as the preferred chat API solution.
In summary, Sceyt's technical performance and user experience advantages make it a well-rounded chat API solution for businesses that prioritize customization, scalability, and a globally inclusive approach.